Your Dog Is Talking To You… 
Do You Know What They're Saying?
When Your Dog Communicates, Do You Listen?
When You Communicate, Does Your Dog Listen?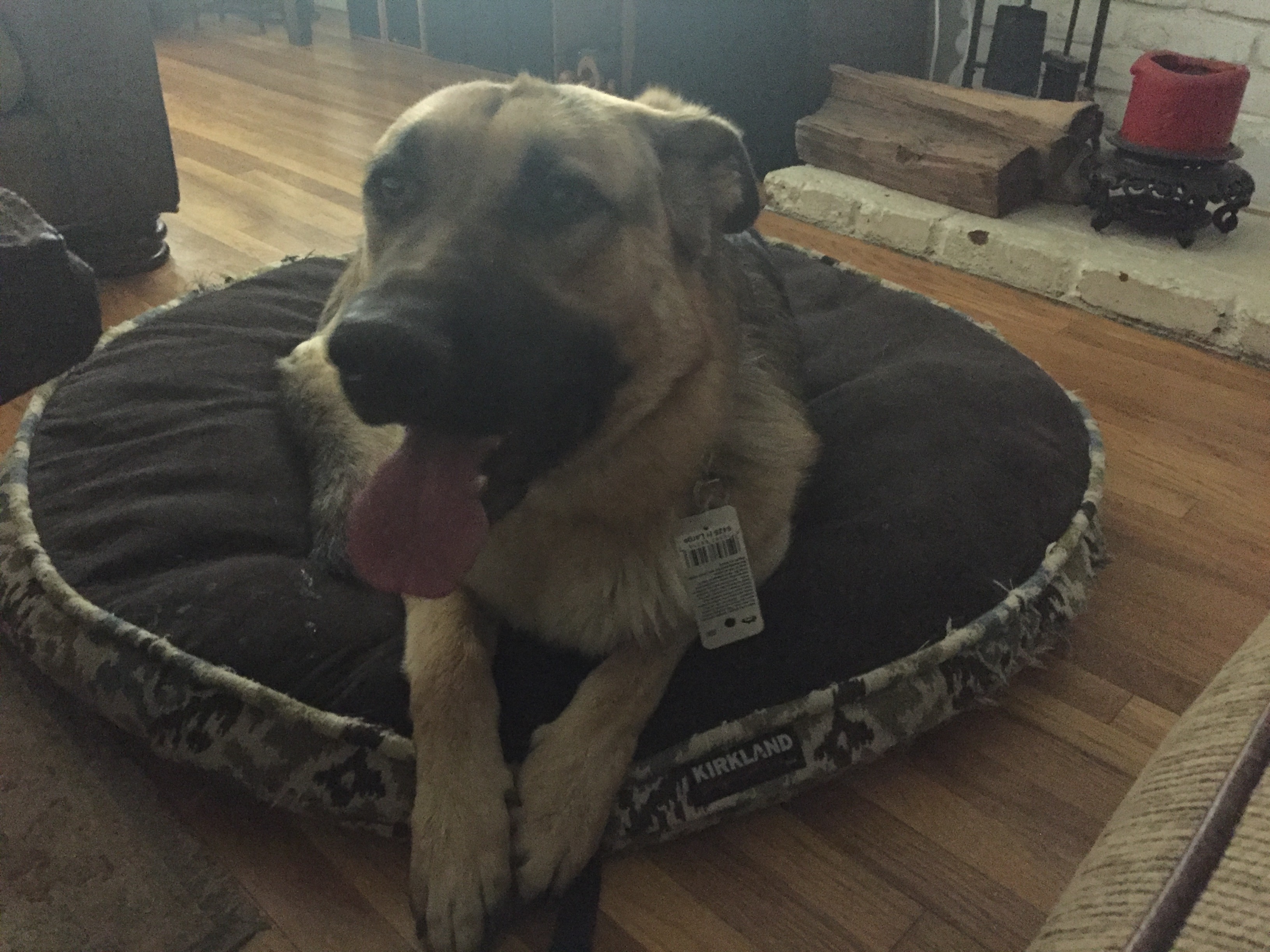 Southern California's Most Experienced Personal Dog Trainer
40 years training dogs and their families to understand each other has resulted a unique way of relating to dogs and their training. Bring out the best in your dog by learning how to read, understand and communicate with your dog from Southern California's most experienced personal dog trainer and behavior expert.
Duane has trained dogs for Bruce Jenner, Alyssa Milano, Paula Abdul, Pink, Jessica & Ashley Simpson, Ray & Anna Romano, Flea (Red Hot Chili Peppers), Frankie Avalon and thousands of other non-celebrities.
Dog's that Duane has trained have gone on to appear in film and print advertisements and commercials with their owners after following Duane's advice, while other's have gone on to become #1 in National agility competition within their breed.
Programs & Rates
Three Ways To Train Your Dog
Private Lessons
Starting from...
Get a handle on most things happening with your dog with a 2 hour consultation & training lesson focused on your dog's specific needs.

Ideal if you're busy and want to learn what things are most important to your dog and what things are important for you to be doing.

Four and Seven lesson packages available starting from $425.

Lessons available at your place or mine.
More Info
Ultimate Board & Train
Starting from...
A Professional Deso The Work For You.

Includes:

Nightly Boarding and Care

Daily Private Training

Socializing

Group Listening Exercises

Lots of Love and Attention

One Follow-Up In Your Home

Unlimited Follow-ups In Granada Hills
More Info...
Daily Training
Starting from...
Drop your dog off for daily training between 8am and 11am Monday through Friday and pick them up later that day between 4pm and 6pm.

Get many of the benefits of an Ultimate Board & Train program without boarding overnight.

Sold in bundles of 5 lessons

Discounts on multiple bundles

Pick Up & Drop Service Available
More Info...
Save Money With These Discounts
10% Senior Discount
Save 10% on any training program if you are over 60 years of age. Can be combined with cash discount.
3% Cash Discount
Save 3% off of the final price of your dogs training program by paying in cash for the course. Can be used with other discounts.
Daily Training Discount
Save up to 15% off of daily training when you prepay for 3 or more 3 lesson packages.
What My Customers Are Saying
Don't just take it from me, let my customers do the talking!
"Dear Duane,
Thank you for all your help with Bessie, Thumbelina, Charity, Tinkerbell, & Tulip. You know I was rejected by Cesar Milan for the show because he didn't think he could help me with Bessie. I'm so glad we ran into you. They are all doing much better now. I never would have thought I could get all of them house broken. Even though she still has a few issues, Bessie has improved so much it's amazing. Thanks again,"
Paula Abdul
"Hi Duane,
Thanks for your help with our little guy, Runner, the miniature poodle. I thought we would never get him walking on a leash. He would sit down and refuse to budge with all the might of his 12 pounds! It was miraculous how you got him going after just one session. He now walks perfectly on his leash and we are converts to your dog training methods.
Thanks!"
Kiara & Wendy Gellar
I first met Duane Overturf over 15 years ago, when he came to my home to train my dog Jumbuck. He assessed the dog immediately before deciding on the training. Training in the dog park followed the training at home. Apart from my dog having a wonderful character, he turned out to be one of my best dogs regarding obedience and reliability.
About two years later he also came to our home to train Jumbuck's companion, a totally different type of dog, who also understood very quickly what was required of him. Duane has a knack for getting dogs to feel relaxed and make training enjoyable. He is very reliable, thorough, and I enjoyed working with him.
Johanne Zell
Duane is Amazing! He has worked with 4 of our dogs and we are ready for him with our new puppy. We have tried others and none compare, We really like his approach to raising and training our dogs. Thanks Duane!
Tiffany B.
Duane helped teach us how to work with our Shepard mix. Our beautiful pet was crazy hyper and didn't want to listen. With Duane's guidance, she now listens and is the best dog. I highly recommend Duane for dog training.
Tara Katibah
Duane helped me train my rescue pup over the phone. Imagine what he can do in person with your dog! His approach to training is so effective and I am so happy he is coming back to California!
Mary Alongi
Duane is an amazing trainer. He literally changed my dogs behavior overnight. He is absolutely amazing kind and carrying. My dogs have become a well mannered social pack that I can take to any location without fear of any bad behavior.
Laurie Goldstein
"Dear Duane,
Thank you so much for helping Rocky & Ninja behave better. You can see how they are sitting here being obedient."
Sincerely,
Mafi Leschuck
"Dear Duane,
Thank you so very much for the good advice and training of Maggie and myself. It was a pleasure to meet and work with you. Maggie is improving, as you may have noted. I personally enjoyed the process, and will continue with the lessons that she and I learned from you. I find you a very special person, as well as a wonderful trainer. I will recommend you to anyone that I know or will meet that could benefit from your expertise. Hopefully the people that you met today will be in touch for their own happy experience in training their little friends. I will keep in touch.
Wishing you and yours the best always."
Sincerely,
Jackie Ross
I've always been a cat person. So when I fell in love with my newborn puppy, Poke, I had absolutely no idea how to care for and train my new-found BFF. Enter my friend, Duane Overturf, who offered to help.
Poke was almost a year old and had some very bad habits. The first hour we spent with Duane, Poke learned 3 very important commands: Sit, down and NO! Duane explained how dogs learn and the best ways for me to reinforce what he already knew.
Duane makes sure that not only the dog learns but also the dog owner so that the relationship between the two becomes very, very strong.
Poke has had only 4 sessions with Duane so far and I can truthfully say he has gone way beyond my expectations. He no longer jumps on everyone he sees. He minds me when I say NO. He comes when I call. He sits and loves to shake hands. He's still having a little trouble with the command "stay" but I have a feeling it's more stubbornness than anything.
I highly recommend Duane Overturf for anything relating to canine behavior and training. He is a Professional with a capital "P"!
Charlene Gellar
When our beagle puppy ran out of our front door every time we opened it, jumped on our table to eat our dinner before we could get to it, and growled at us when we tried to discipline him, we knew we needed professional help with his training. I searched for a while and interviewed several trainers, and chose to go with Duane because he made us and our dog feel comfortable from the first time we met him, and he has a friendly and re-assuring approach.
Duane came over once a week and trained me to train my dog in between those meetings. It didn't take long before Bandit walked besides me off the leash during our daily walks and was a perfect member of our household. Thank you, Duane, for helping make Bandit the happy, well-behaved dog he now is!
Monique Klarich
"Dear Duane,
I can't thank you enough for the training you gave to me and my dogs early on. My rescue Puli, Baldwin, could not have become the titled agility dog without a basic knowledge of obedience. And my smooth Collie, Riley, is slowly turning around thanks to your training. It is impressive how you took into consideration each dog's natural personality when training, which is what I believe makes all the difference. Now I can take my dogs anywhere with me without fear. The most amusing part of your training was how you had to train me! The things I learned from you have not only helped me in training my dogs, but in living my life! Thank you Duane. Here's a picture of Baldwin getting another first place in Agility. He is now the #1 ranking Puli in the nation."
Susan Hartzler
Hi, my name is Laura. I signed up for a 'group' dog training class in the San Fernando Valley. I highly recommend Duane Overturf for your dog training needs! Duane always had a great attitude! His handling of each dog was consistent and with a gentle authority. You could tell, he knew what he was doing. It amazed me how quickly dogs responded to his commands. Duane had total control of each situation at hand. Also, behaviors such as; a barking problem, chewing problem, digging problem, etc. – Duane had training techniques that conquered each one. He made dog training look easy! I was extremely impressed with how well all the owners and dogs did at the end of the course! Now that's a G O O D D O G ! Oh, and anytime I had a question, I called Duane and he took the time, walked me through the problem step by step, making sure I understood and was confident I could handle the situation before hanging up the phone. Duane is an outstanding dog trainer!
Laura Digilio
Duane got our unruly dogs in line and made walking them a pleasurable experience. I never thought my dog would ever stop pulling. He also got my maladjusted chocolate lab to socialize much better. Duane is the best!
April Grossinger
Duane trained my golden retriever Jacob and myself many years ago. The reason why I say he trained my dog and me is because he gives you the tools to continue training on your own. I had 5 private sessions with him and Jacob was the most well trained dog that I have ever owned. It was totally worth the investment! Duane is knowledgeable, patient , kind yet assertive when necessary. He is truly a dog whisperer! I will definitely use Duane again in the future.
Sharon Cohen
Duane is an excellent trainer of dogs and relates very well to the dog owners. He is a responsible person who shows up on time and does what he says he is going to do. Our dogs love and respect him.
Steven Sapkin
"Dear Duane,
We cannot thank you enough for the incredibly effective training you gave our dog Sierra, the Siberian Husky from Saugus, CA. We have enjoyed camping with her, an awesome beach trip and lots of great walks off leash.
She has added so much joy to our lives instead of constant frustration.
The picture was taken just a week after we completed our training with you. She stayed with us beautifully!
Thanks so much,"
The Rishell Family
"I have known Duane Overturf in his professional capacity as dog trainer for close to 10 years. I have referred numerous clients to Duane, with positive results. I highly recommend Duane as a dog trainer."
Sincerely,
Dr. Mary Sherman DVM
We hired Duane to help train our Pomeranian Boingo. Duane met with us to discuss the process. He came prepared with a nice training course binder for us to keep. This is helpful to refer to later! We quickly learned that dog training is largely people training too. I wasn't expecting that, but it makes perfect sense. Dogs are creatures of habit it's true so the training is hands on with the people too. Duane impressed us with his thorough knowledge of dog training as well as his professionalism. He is also very kind and caring. I would recommended him to anyone who has a dog in the family.
Cordell Webb
Duane is exceptional – made a huge difference to our family as we were raising babies & puppies & needed the expertise of Duane to sync in everyone.
Always think he should have a show on TV as he is the real deal.
I highly recommend Duane who is firm & yet so incredibly loving & shows puppies / dogs the way forward.
Duane goes above & beyond.
Sarah & Steven Gatto
Duane Overturf speaks dog! He is an excellent dog trainer and a really great guy. I highly recommend Duane for all your dog training needs. He has helped me with several of my dogs, including Baldwin who was the #1 Puli in agility in America. The obedience Baldwin learned with Duane helped him excel in agility and everything he did, including visiting children in the hospital as a therapy dog.
Susan Hartzler
Duane is a magician! He worked with me to train Mystic when she was a pup and now at 13 years old, people still marvel at how well-behaved she is. We have had several offers to buy her from us because of her manners. Duane is patient and has so much experience and knowledge. This is not the typical group training from your local big box pet supply house. It is personal, one on one, and customized to the specific issues or needs of the client. I can't imagine a better partner in properly training a dog to be a well-mannered member of the family.
Amber T.
Professional Dog Training in Los Angeles & Ventura Counties Since 1977
Cities serviced include Agoura, Agoura Hills, Agua Dulce, Altadena, Arcadia, Arleta, Atwater Village, Bel Air, Bell Canyon, Box Canyon, Burbank, Calabasas, Canoga Park, Canyon Country, Castaic, Chatsworth, Crescenta Highlands, Culver City, Eagle Rock, Encino, Glassell Park, Glendale, Granada Hills, Hidden Hills, Hidden Valley, Highland Park, Hollywood, La Canada, La Canada Flintridge, La Crescenta, Ladera Heights, Lake Balboa, Lake Sherwood, Lake View Terrace, Los Angeles, Malibu, Mar Vista, Marina Del Rey, Mariposa, Mission Hills, Montrose, Moorpark, Newbury Park, Newhall, NoHo Arts District, North Hills, North Hollywood, Northridge, Oak Park, Pacific Palisades, Panorama City, Pasadena, Pelanconi, Playa Del Rey, Porter Ranch, Reseda, San Marino, Santa Monica, Saugus, Sepulveda, Shadow Hills, Sherman Oaks, Sierra Madre, Simi Valley, Somerset, South Pasadena, Stevenson Ranch, Studio City, Sun Valley, Sunland, Sylmar, Tarzana, Thousand Oaks, Toluca Lake, Toluca Terrace, Topanga, Topanga Canyon, Tujunga, Valencia, Valley Glen, Valley Village, Van Nuys, Venice, Verdugo City, Warner Center, West Hills, West Hollywood, West Los Angeles, Westlake Village, Winnetka and Woodland Hills. I also accept dogs for board and train programs from any location.
My Guarantee
When you enroll your dog in any training program I offer, I make a lifetime commitment to your dog that he or she becomes an enjoyable, well mannered member of your family. Within the confines of the type of course you've selected I will do whatever it takes, for as long as it takes, to achieve this goal. In order for me to accomplish this, there are some things I would like for you to do… Should you encounter problems with your dog while you are dog training or after you have completed your lessons, telephone me immediately. We will discuss the problem and I will advise you. If this does not solve the problem, we will schedule a time as soon as possible for us to meet. If you find it necessary to put a hold on your dog and puppy training lessons for any reason, you can resume the dog training lessons when you're ready. If you decide to place your dog in another home you can transfer the remaining dog training lessons to the dog's new owner if they are in the area I service. This is not the limit to my guarantee. If these things don't get the job done, we will improvise. When I say that I am committed to your having a wonderful dog I am very serious. Your satisfaction is my top priority.
Please read my client testimonials to see what they thought of my services as a Los Angeles Dog Trainer.
Frequently Asked Questions
What Is The i-Touch Method of Dog Training?
The i-Touch Method of Dog Training is a technique for teaching that I developed over 35 years as a family dog trainer. It is a method of learning that links your dogs sense of touch with their sense of hearing helping them better understand when you are speaking to them which in turn creates a stronger, more reliable response when you give your dog a command. The i-Touch Method of Dog Training also speeds up your dogs learning by enhancing their ability to focus in distracting situations.
Do you work with rescue dogs?
Yes, I have extensive experience working with rescue dogs and their rehabilitation. I also have a special ability to help shy, timid, aggressive and abused dogs. Most rescue dogs can be rehabilitated to lead a relatively normal life in a suitable home environment with committed owners. How long rehabilitation takes depends on the severity of the trauma, age of the dog, length of time in the abusive or neglectful situation, breed and other factors. Positive Tap Training is very helpful when working with these introverted dogs by helping to break through the clutter in their minds and help them refocus on other things.
What area do you service?
All of the San Fernando Valley, Simi Valley, Moorpark, the Conejo Valley and the Santa Clarita Valley and Beverly Hills, North and West Los Angeles, Santa Monica, Venice, and north to Newbury Park.
Can I upgrade after signing up?
Yes, you can upgrade to a different program from what you initially decided on.
Do you use food in your training?
Yes, I sometimes use food in training if it is a good match with the owner and the dog. Food is just one positive reinforcer that can be used for training if the dog is motivated by food. Food can be an excellent reward for many dogs and very useful when teaching new behaviors and longingly when you are having your dog perform. If you do not want to use food in training your dog that is not a problem, but you may limit yourself by making that decision.
Do you use collars in your training?
Yes I usually use some type of training collar or head halter/harness when training. I also use remote training collars to employ Positive Tap Training at a distance. Todays electronic collars have many features including built in clickers for marking moments you want to reinforce from a distance, vibration for positive reinforcement and "tens" stimulation like that used to relieve people of chronic pain disorders or rehabilitate muscles in physical therapy. They are safe and are very effective when used properly. I also use other types of collars which I match to the dog and the owner. That is to say that the collar I use on a dog with one person may not be the same as I would use on that same dog with a different owner with a different demeanour. As one of the most experienced e-collar trainers in southern California I have mentored many younger trainers over the past 4 decades in the proper use of e-collars.
Do you use clickers in your training?
No, I do not use clickers in my training although I could if someone requested it. More importantly, I use the principle behind what the click represents in my training 100% of the time. Clickers are just a tool and can be useful to help teach behaviors. However, my experience is that they are not the best tool for the vast majority of people or families for a variety of reasons. However, the fundamental principle behind the use of the clicker is an important element of training and should not be ignored.
Don't Be Shy
You made it this far… now give me a call to get started with your dogs training.
Get In Touch